Susan Skelley is a Southern abstract artist and certified colored chaser.
Born in Wilson, NC, she moved to Myrtle Beach in her teens. Her career as an artist began more than a decade ago when she was going through a divorce and needed a creative outlet. Since then, she's produced more than 1,000 original pieces for hundreds of clients across the country. Her art embodies a delicate mixture of lighthearted ambience and refined elegance.
It's the kind of art you dance to…
Susan lives by the philosophy that your home is your sanctuary; you should fill it with art that makes you happy. Her art can be found in homes, galleries, boutiques, and other business establishments.
"I get joy from creating art that makes people smile."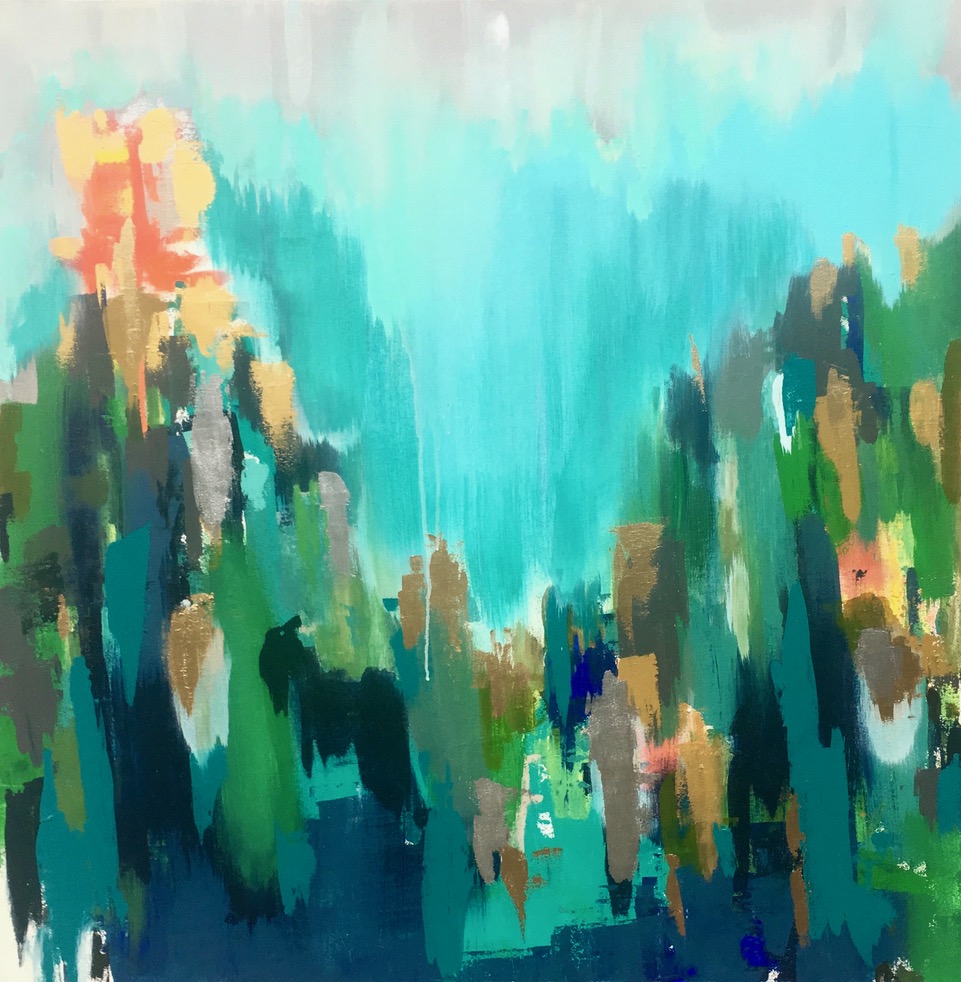 Schedule a personal consultation or installation.
Half the fun of painting is getting in the right kind of mood and then letting that mood carry you away. Like most people, Susan finds inspiration in the world around her. She uses a combination of life experiences, life reflections, and creative energy to develop new pieces. Each piece has its own theme, but also, its own message.
From moments of laughter to "you had to be there," here are some favorites.
Asymmetrical Fat Folds
What a pediatrician told me about youngest son 25 years ago.
Behind the Drive-In
When I was growing up, my aunt and uncle used to tell me stories about dates at drive-in diners.
I Can Go
The time my mom hijacked my dad's date and made it their first date.
Hurricane Babies
This one is pretty obvious! Nine months after a hurricane, the birthrate goes up!
Peaches and Buddies
My former father-in-law refers to his granddaughters as 'peaches' and his grandsons as 'buddies.' He rarely calls them by their first names.
Searching for Styrofoam
During a visit home from college one time, my son told me he didn't expect to find pots and pans filled with good food, but rather styrofoam boxes filled with leftover takeout.
Sixty-Eight Dollars
My mother recently gave me a large container filled with some of my life's momentos, including the hospital receipt for my birth!
Visit Susan's Etsy page for more work, including paintings currently for sale.
For Susan, good partnerships go a long way, which is why she's always looking for new opportunities to collaborate with other color chasers.

Whether you're a boutique owner, an interior designer, a fashion designer or an artist, working together to make a big splash is one of the best ways to ultimately make a lasting impact.
You can see some of Susan's work for yourself in these locations…
Isles Restaurant
Ocean Isles, NC
North Myrtle Beach City Hall
North Myrtle Beach, SC
East Coast Solarium
Myrtle Beach
Frame Moxie Frame Shop & Gallery
Hartsville, SC
Mahala Reese Women's Boutique
Hartsville, SC

For media or commission inquiries, contact Susan Skelley at info@susanskelley.com or complete the form here.